What Happened:
Well, finally the conclusion to a plot that's been in the making since #1. What happened? A lot happened, so I'll try and be brief.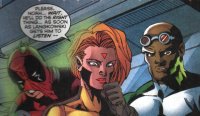 Captain America is convinced he's the Mithras and is ready to battle Tiamat. Meanwhile Deadpool is lost, but is found back in time by Gerry and Zoe. After some soul searching and a pep talk from his comrades, Deadpool is ready to do battle. As this is happening, Cap is fighting Tiamat and isn't having an easy time. The Messiah arrives and Deadpool arrives, bazooka in hand. Tiamat is found unworthy, by his mystical masters and Deadpool is given Tiamat's armor. Meanwhile, the Messiah is creating peace on earth by making everyone brainless zombies. Tiamat is out of the picture, But, the Messiah takes control of Cap to battle Deadpool. Deadpool beats Cap in a classic moment, before killing the Messiah. Zoe gets promoted, Dixon gets committed and Deadpool disaapears into the sunset.
Comment: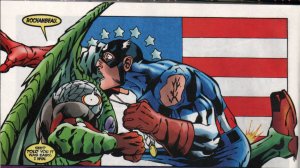 This was a very good ending and a great read. The overall story was excellent, with lot's of nice 'touches'. This wasn't just an issue full of action and wasn't rushed (like a lot of 'end of story arc' issues seem to be). Instead this issue delved into the characters and from them came the action and the story. The art was very good too (though a bit rushed in places) telling the story as much as the words did.
What can I say? I liked just about everything about this comic and I could generate a list, but I won't. I think this was a great conclusion to the storyline, with thrills, spills and surprises. Out of all the comics I read Deadpool continues to be the best in every way!