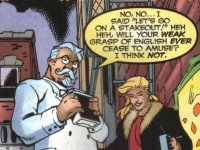 Comment:
Once again the team on Deadpool have produced a solid comic. Eventhough this issue probably isn't as great as others.
Good Points: The good things about this issue included the return of T-Ray and the beggining of build-up to a climax involving T-Ray and Deadpool. I don't really think T-Ray is the best villain, but I am interested to find out why he has such a big grudge against Deadpool, plus I want to see Deadpool humiliate him and kick his butt. The revelations about Mercedes (the mystery girl) were interesting as well, I find that I really want to find out more about Deadpool's past and what the deal is with Mercedes. Of course the fight between Deadpool and Bullseye was great. I've said before that I really don't like Pete Woods pencils much, but the way he choreographed this fight sequence was brilliant! I also liked seeing some evidence that Deadpool is trying to keep at least some of his promises to himself (during the Dead Reckoning storyline) by doing the hero thing and saving Mercedes selflessly.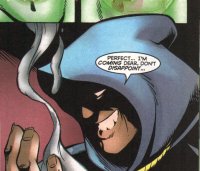 Bad Points:There were a few things that brought this comic down. Firstly, eventhough Woods did a good job, I was dissapointed to see that McDaniel didn't pencil this issue. I also think that this wasn't a good comic for first time or even second time readers, since not much effort is put into explaining what has led up to this issue. There also seems to be a trend in the stories lately, and that is that they seem a little disjointed. The comics don't seem to flow along aswell as they have previously. I think this has to do with all the "Is Deadpool cancelled?" thing, affecting Joe Kelly and his writing.