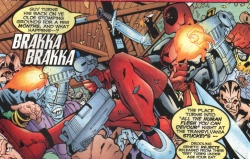 Comment:
This issue was okay and presented some interesting moments involving Deadpool's past. But, there were quite a few things that could have been better done.

Good Points: Overall, this issue was pretty average, despite the tumultuos events contained within. The recap at the start was good, especially if you've only just picked up the book or have been confused by some of the recent events. It was also great that some mysteries are becoming clear, including the exact nature of T-Ray and Deadpool's relationship. The other bonus was that DP goes back to the Hellhouse! Which is fun, but disturbing in how T-Ray has almost total control of the Hellhouse. Of course their is a gratuitous fight scene, which has some fun moments.

And finally some time was spent in developing Mercedes more. Which was great, maybe I can actually start to care about what actually happens to her now.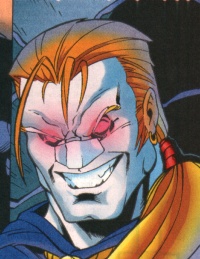 Bad Points: As I mentioned before there were some things that really could have been done better. In particular the 2-page flashback which involved so much, including how Mercedes died, T-Ray and Deadpool's first meeting and the events that lead Deadpool to changing his career path, from peace loving hippy to fun loving merc! These two pages would have been better done in a whole other comic, like the Deadpool/Death annual of last year. The way it was just crammed in here took away from the whole effect I think it was supposed to have.
The other main thing that could've been better was the fight scene. This must be the first DP scene that I started to get bored with and didn't really see the point of. I think the pages taken up by this scene would have been much better spent on exploring the flashback I just mentioned.