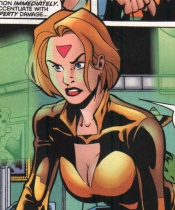 Comment:
I'm not sure what to think about this issue, I'm wavering between whether it truly has merit or whether it just doesn't make the grade. The story itself seems a bit useless. Personally I feel this build up to a showdown with T-Ray is taking a bit long and I'm getting very impatient.

Good Points: But there are some good things. On the plus side this issue returns the reader to the merry world of the 3 L's. We get to see what's been happening with Zoe, who seems to have become a 'company' girl. And throughout the issue we see some of the dangling plot threads involving her and Monty in particular resolve.

We also get to see some funny moments as well. Now I may be just a simple lad, but I like the 'explodey-head' guy (or Herbet) and find the slap-stick comedy he provides funny. There is also Deadpool's actions during his jail break that provide a laugh or two.

Finally, sometime during this issue I actually started to feel that I cared about what would happen with this whole Mercedes plot.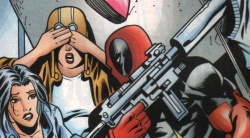 Bad Points: As I said at start, bring on T-RAY already. Sure this issue was good, but I've been expecting to see a showdown or at least some interaction with T-Ray for the last 2 issues at least! If it doesn't happen next issue... I'm gonna... aww I don't know, wait until it does happen?!
I won't say much about the art, except that I think I've actually come to the decision that I actually like Pete Woods art after all. Sure I like McDaniel's better, but Pete's art is better than a lot of other stuff.
Finally, I think that it's showing that Joe Kelly is coming to the end of his run. It shows in how a lot of things seem to be happening, but that aren't really having the same effect as they used, because they seem a bit rushed and not as dramatic as they could be. I think Kelly is just chucking in a lot of story elements that he wanted to use eventually, but since his leaving, has just seemed to throw it all in.