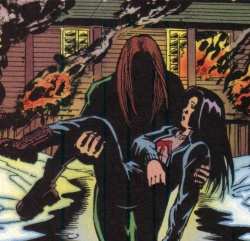 Comment:
Well, a bit of a roller coaster ride of an issue, also an issue that I pretty much hated on first read, but is probably one of the best issues of DP...

Good Points: Like I just hinted, the best reason that this is a great comic is the fact that I almost hated it and what it meant. It meant that all I thought I knew about Deadpool was wrong and all things that I held sacred about Deadpool was totally thrown out the window. This book really was a roller coaster of a ride, I felt the ups and downs, along with Deadpool. Kelly showed once again why he is so brilliant and why he will be sadly missed. Kelly can make the reader actually care and cheer for a character as dispicable as Deadpool and still not feel bad for doing it!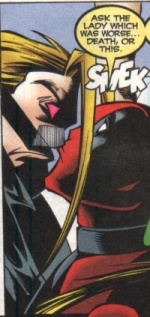 This story also makes sense, it doesn't contradict what has gone on before in Deadpool, or Deadpool as a character. This is great, it seems that so many 'revelations' in comics today just contradict what has gone before and spits in the face of previous storylines.
This end to the current story line is satisfying and suprising, making sense of a lot of what was going on. I'm sure going to miss Joe Kelly's writing.
Bad Points: There really wasn't anthing bad about this issue. Some things weren't tied up as nicely as I would've liked though. The line wasn't quite that clearly drawn on events that were real and things that were happening due to T-Ray's magic and so were unreal and just conjured. Also, the end with Deadpool and Death was a bit off. It just didn't seem right, that Deapool was having some kind of hiatus from life or something. But I suppose Kelly might just be leaving it up in the air so Priest (new DP writer) can take this book wherever he wants.