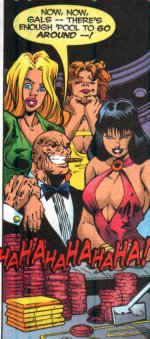 Comment:
I'm still not too sure about Priest....

Good Points: If there is one thing to say about Christopher Priest, his take on Deadpool and this issue, it's that he knows how to funny, rollicking comic book story. This issue, again, is definitely humourous, from the little things in the Flashbacks to the way Deadpool reacts to not being able to kill anyone. This really reminds of the full-on romps that Deadpool had in his limited series and some Kelly issues.

The art isn't too bad, but after 3 issues of the same, I hope Paco Diaz changes some of the way he lays out a page or someone else more interesting takes over. That doesn't mean it was reasonable art though.

Bad Points: Now onto why I'm still not too sure about Priest.

While I like the what is happening in general, Deadpool just doesn't seem as interesting as he used to be. The depth to his character and to his stories just doesn't seem to be there. I no longer feel like I read Deadpool because I interested in him as a character, but because it's a fun book. Which isn't really or that bad a thing, but still worries me. Kelly used to mix it up a bit and Priest has only really shown a talent for fun. Maybe I'm hoping for too much....but hopefully Priest can add that little bit more that will turn me into a mindless Deadpool fanboy again.

Oh, and I really don't like the idea of Deadpool being a snot man for the rest of his comic days, this would be a really bad move.