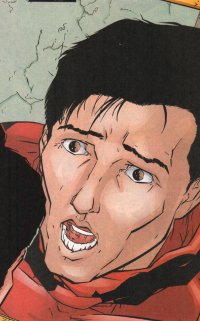 Comment:

This issue was a crack up. That's Australian for VERY funny. It reminds of one of my favourite DP issues (#27) and here's why...
Good Points: Deadpool is a fun character and is great when used for his humourous potential. This issue utilises this aspect to make it one of the funniest DP comics I've read! I love how Deadpool just romps all over the "THOR" ethos, making fun of him at every turn. Lines like "By Oprah's chins! Mine hammer doth return to me, as though twas a blockbuster rental!" and "Come-- let us off! Let us go avenge something!!" are classic.
Besides the great humour I like how Priest has worked to keep in line with current Thor continuity. I read the monthly titles Thor is involved in and as a fan of Thor, I appreciated how Priest kept in line with what is happening to Thor in his own book.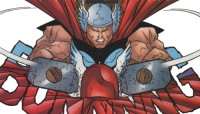 Bad Points: Besides being very funny, there wasn't much else going on in this book. And considering Priest's run so far, funny is mostly what he is capable of with Deadpool. While I can handle it if that is so, it's step down from Kelly, who managed to be funny and have a dark edge.
But, maybe there is hope, the last page revealing Deadpool with a handsome visage, might mean the next story arc is going to focus on something a bit more serious. There are other things wrong as well, but I'm trying hard not to compare Priest too much to Kelly. But, things like a supporting cast and character development would be a great improvement.