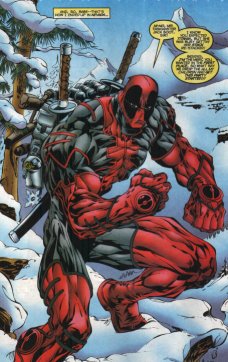 Comment:

I think that this comic was one of the best that's come from Priest so far...
Good Points: The best thing about this comic is that Preist shows that he can do more with Deadpool than just flat chat action and slapstick humour. The laid back feeling to this issue that makes it feel kind of like a Seinfeld episode that explores what happens when super villains share an apartment. This is a great idea and Priest pulls it off well.
Another great thing is that Priest shows Deadpool to be the skillful mercernary he is in the couple of fight scenes there is. In previous issues Preist has tended to display Deadpool as incompetant for the sake of humour, which was starting to grind on me.
As far as character development goes, Preist may be doing something here. Deadpool seems to be getting compfrotable with his Tom Cruise looks and seems fairly quiet (comparitively) during this issue. Is Deadpool starting to like being handsome?
The art is good. And finally I hope this issue is an indication that Priest is going to start building up a supporting cast. And I hope Titania and Constrictor stay around as part of it. I think the current room mate situation has heaps of potential.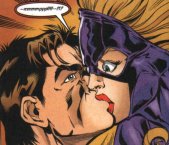 Bad Points: Problems? Well, the new costume. It's not really that bad. It's not really that different. It's just got extra things added to it, which don't really make a difference and aren't really needed. I think Paco Diaz (series penciller) is probably complaining though, because of the extra detail.
I still don't feel that Priest has lifted Deadpool past the point of being just a humourous book yet. Eventhough this issue shows more promise for that than previous issues.